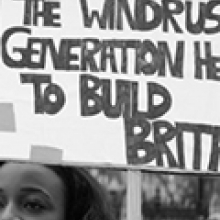 To commemorate the Windrush generation, Hackney will unveil two sculptures next year.
Thomas Price, whose grandmother is from Jamaica, and Veronica Ryan, whose parents are from Montserrat, will do the sculptures.
Price, whose art focuses on issues of identity, will create a 9-foot statue using 3D scans of Hackney residents that he hopes will give black Britons "a sense of visibility, connectedness, belonging and an ownership of history that they've not been allowed to access fully."
Ryan will create a series of large marble and bronze sculptures of Caribbean fruit and vegetables as a metaphor for the origins and movement of people. "Many fruit and vegetables have their origins in Asia, and Africa. The perception of origins, and belonging to specific places is an extended part of the conversation," says Ryan.
The announcement of the sculptures comes amidst several controversial statues in the UK being removed by colleges and protesters participating in the now global Black Lives Matter movement.