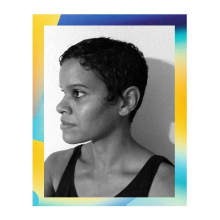 Camille Chedda has won a Stay Home Artist Residency, a five-month program that supports 24 cultural practitioners, artists and creative entrepreneurs. Chedda and the others will get a $3000 USD stipend to produce work within a two-month period safely inside their work-spaces/studios. She has been a resident artist in Scotland, New York and Trinidad and has been the recipient of the Albert Huie Award in Painting, the Reed Foundation Scholarship and the inaugural Dawn Scott Memorial Award.
SHAR is offered by CATAPULT, which is funded by American Friends of Jamaica through Kingston Creative and Fresh Milk. The project has helped more than 1000 Caribbean artists, cultural practitioners and creative entrepreneurs impacted by the pandemic whose work focuses on culture, human rights, gender, LGBTQIA+ or climate justice.
The awardees will share their work bi-monthly on the CATAPULT online platforms to reflect on their artistic process and practice while showcasing their work publicly. They were assessed by regional creative experts on their artist statement, CV, portfolio, and a proposal outlining their preliminary concept of artistic or research activities pertaining to one or more of the programmers' critical themes.
These include: Giscard Bouchotee, the Curatorial Director of Nuit Blanch from Haiti; Sara Hermann, the Chief Curator& Specialist of Visual Arts in Santiago, Dominican Republic and founder of Curando Caribe; David Knight Jr, co-founding editor of the arts and literary journal Moko from the U.S. Virgin Islands; and Clara Reyes, Head of Department of Culture within the Ministry of Education, Culture and Youth in Sint Maarten.