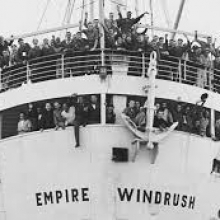 The Windrush generation is in vogue again. Now a walkway on the Tilbury Bridge that they used on arrival in the UK, has been turned into an art installation to honour them.
More than 130 images and 35 audio recordings were placed on the walkway of the Tilbury bridge by Everton Wright, alias Evewright, who is spearheading the project. The Essex-based Evewright is a multi-disciplinary visual installation artist with Jamaican roots. Others contributing to the project include Olympic javelin thrower, Tessa Sanderson, who submitted pictures of her parents, and relatives of the late Andrea Levy, who chronicled the Windrush generation.
The Windrush Generation are West Indians who filled post-war UK jobs because of labour shortages and helped to rebuild Britain. They docked in Tilbury on 22 June 1948 aboard the MV Empire Windrush. Last June Britain celebrated Windrush Day to honour those Caribbean immigrants.
Because of the current pandemic, the Tilbury installation is not open to the public until next year. But images of the walkway can be viewed online here: https://www.evewrightarts.org/tilbury-walkway