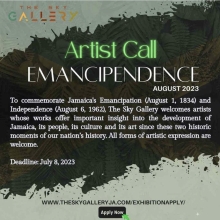 Calling all Artists! The Sky Gallery invites you to submit your best works for showcase during our 2023 exhibition season at theskygalleryja.com/exhibitionapply.
► Emanicipendence - August 2023
To commemorate Jamaica's Emancipation (August 1, 1834) and Independence (August 6, 1962), The Sky Gallery is welcoming artists whose works offer important insight into the development of Jamaica, its people, its culture and its art since these two historic moments of our nation's history. All forms of artistic expression are welcome.
Deadline: July 8, 2023