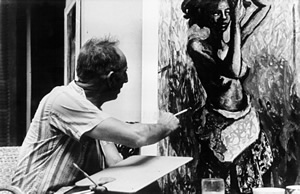 Michael Lester, was born Michal Antoni Leszcynski in Poland in 1906. His mother was a painter who had graduated from St Petersburg academy. He graduated with degree in Marine Studies from the Polish State Nautical Academy and had a brief stint at the Krakow Academy of Fine Arts.
He joined the Royal Navy and became a naturalised citizen of the United Kingdom. He met his wife Peggy in the early years of World War II. On a trip to Jamaica, he fell in love with the island and abandoned his sailing career to become a full-time artist in Jamaica while his wife became an art dealer
His first attempts at art education failed, so he moved to Montego Bay, which he describes as his own 'private renaissance'. He also anglicised his name to Michael Lester. Collectors sought his bold, black lines and vivid colours in his work. He died in 1972.