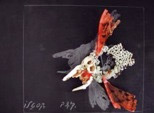 Keisha Costello is a Jamaican artist living and working in Kingston. She studied painting and graduated from the Edna Manley College of Visual and Performing Arts. Since then her work has been shown at the National Gallery of Jamaica and in other significant group exhibitions. She held her first solo show at the Mutual life Gallery in 2008.
Keisha Costello's work echoes Naipaul's vain hope for order in an environment destined for chaos and deterioration. She is preoccupied with organic forms that offer a perverse and morbid aesthetic even as they wither and disintegrate. Found objects, such as bones, shells, leaves, and insects are assembled into compositions that speak to her futile fight for life. Once gathered these items are placed within boxes that conserve, contain and reframe our understanding of life in the Caribbean and its fragility.
Curator Eddie Chamber's who included Costello in his Curator's Eye 11 exhibition History and Identity said that he did so because her work spoke to him of Jamaica's motto 'Out of Many One People' or what Costello calls Hybridity in Visual Form. But what remains to be seen is whether Costello's work if it mirrors the nation, is more about the living than the dead. A recent show at the Mutual Life Gallery (2008) suggests her resilience as a young painter and a survivor.