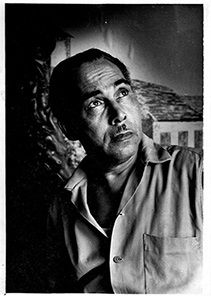 The late Honorable Alvin Tolman Marriott is considered a national Jamaican treasure. He was born in 1902 to a family of artists, his mother a playwright and musician and his father a craftsman who made and sold straw items. It was his mother who encouraged him to embrace his creative nature. While still in his teens, he earned his first woodcarving commission. After honing his skills in the local furniture trade he migrated to Panama and then the USA where he became an enterprising sculptor. He ven presented a bust of President F.D Roosevelt to the White House in 1944. 
Three years later, he was awarded a British Council Scholarship and studied at the Camberwell School of Arts. Here he developed further as a sculptor, adopting a classical style for which he became known. He also worked for well known furniture houses, creating custom pieces including a carved mahogany tray as a wedding gift for Queen Elizabeth.
In the 1960's, Marriott returned to Jamaica, and  and witnessed independence celebrations at a time of unprecedented pride. He played a significant role in the replacement of colonial art forms to pieces that better represented Jamaica's rich history and culture. He was commissioned to make busts of national heroes Marcus Garvey, Norman Washington Manley and Alexander Bustamante. He also created the monumental sculpture of Arthur Wint, Jamaica's first Olympic gold medalist, outside the newly built national stadium. The sheer majesty of his pieces helped to redefine the Jamaican aesthetic. 
In the 1980s, he unfortunately became a victim of Parkinson's Disease, an illness that caused his hands to shake uncontrollably. Even so, he was requested to create a life-sized bronzed figure of the great Bob Marley.  The piece displayed his unerring artistic talent and became a stellar tribute to both their careers. Because Marley was beloved by the world, the national artistic scrutiny and international attention raised Marriott's stature as an artist.