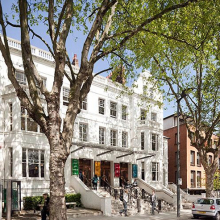 Jamaican teen Sule Kamu Thelwell has been chosen as one of 18 out of nearly 5,000 applicants to be accepted for the Bachelor of Arts in acting at the Royal Central School of Speech and Drama at the University of London.
The 19 year old from Clarendon and Glenmuir High School entered solo and group performances in the annual competitions by the Jamaica Cultural Development Commission. He earned six gold medals at the parish level and was part of the Quilt Performing Arts Company drama camp.
Kamu represented Jamaica at CARIFESTA 2019, in Trinidad and Tobago. His work includes the lead role in Fear, an international short film produced in Jamaica and a role in ReAshore'd, a full theatre production by Quilt, nominated for 15 Actor Boy Awards. He also plays a role in a new music video for Bob Marley's endearing classic, No Woman No Cry.
Kamu also has started a GoFundMe account to raise the £27,929 needed to realise his dream of attending Royal Central in October. The account can be accessed from his personal website at sulekamuthelwell.com.