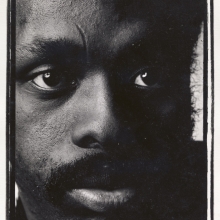 Jamaican Herb Robinson is one of 14 photographers in the Whitney Museum's exhibition, Working Together: The Photographers of the Kamoinge Workshop. The show chronicles the early work of the Kamoinge Workshop, a collective of Black photographers formed in New York City at the height of the civil rights movement in 1963. The show will be at the Whitney till March 28.
Robinson moved from Jamaica to New York when he was five. An original member of Kamoinge, his early photos are black and white street scenes, abstracts and portraits influenced by the famous  African American photographer Roy DeCarava who died in 2009. "My instrument is the camera," says Robinson on his website, "it is the vessel that responds to and carries my emotions."
He has exhibited widely in galleries, museums and institutions across the United States. His work was included in the Tate Modern exhibition Soul of a Nation: Art in the Age of Black Power, that opened in London in 2017.
Kamoinge in Kikuyu means a "group of people acting together." The original collective met to discuss and critique each other's works, that often showed how they perceived and interacted in their communities. 
Learn more about Robinson and his work with Kamoigne here.