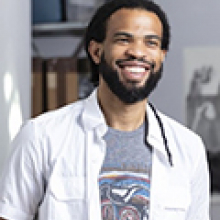 Visitors to California's Luxe Art Institute will get to enjoy the work of Jamaican artist Cosmo Whyte from September 12th to November 7th 2020.
Whyte is one of several resident artists featured for the Institute's 14th season, "A New Territory", which focuses on the theme of migration.
Whyte's work in the show will explore how leaving one culture behind and trying to assimilate to another impacts one's identity and critique concepts such as nation-building, migrant displacement and appropriation. Whyte is based both in Jamaica and Atlanta.