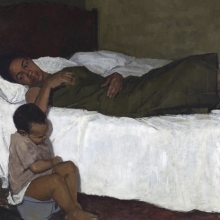 "I don't think artists should ever be married because you cannot give to your wife the kind of total devotion she
needs. That goes to your art. Art is my first love, and it's never going to be any different."- Barrington Watson for
Caribbean Beat Magazine.
Pictured: Barrington Watson's "Mother and Child" (1958) from the National Gallery of Jamaica.