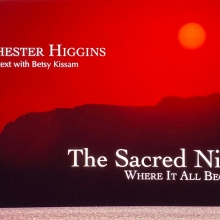 In the last 50 years, Chester Higgins has caught some historical events on camera, like Bob Marley's final time on stage in 1980, and photographed some important places, many in his latest collection, 'Sacred Nile'. 
Featured in The Photo Review's January/February 2021 newsletter, the collection showcases his stunning work, starting with his first visit to Egypt in 1973. Since then, Higgins has captured the past and the present on film from the ruins of the ancient kingdoms that thrived on the Nile's banks to the people who exist there now. 
Critically, he wanted to show the natural environment that connects the two time periods, which he notes lost its sacredness in the Abrahamic religions that dominate the region today. Higgins speaks fondly of nights in the remnants of Nubia, far from the settlements of today's Sudan, trying to capture the constellations worshipped by these early civilizations. Of the lack of infrastructure, he says: "That was good, because I wanted to document the night sky. I wanted to photograph sunrise and sunset. Light is most important to me." 
Higgins also underscores the significance of women in these pre-biblical cultures, something he believes has been lost. "Before the old testament the woman was the top God and Gods and everything else fell under her. The Abrahamic faiths did away with the divinity of the woman. They just took it away from her." The collection includes images of The Temple of Yeha in Ethiopia, called the Temple of the Woman by the Waaqeffanna priestesses who still use it. 
Always working closely with his wife, writer, editor and linguist, Betsy Kissam, it's no surprise that Higgins also chose to spotlight another fundamental departure from today's world, i.e., the women who ruled alongside the kings of these ancient nations. Higgins photographed several Nubian artefacts that cemented the significance of the 'kandakes' or female rulers of the time. "You saw pictures of queens on the walls...we just wouldn't know about those female rulers if they had not left behind — in stone — snapshots of themselves."